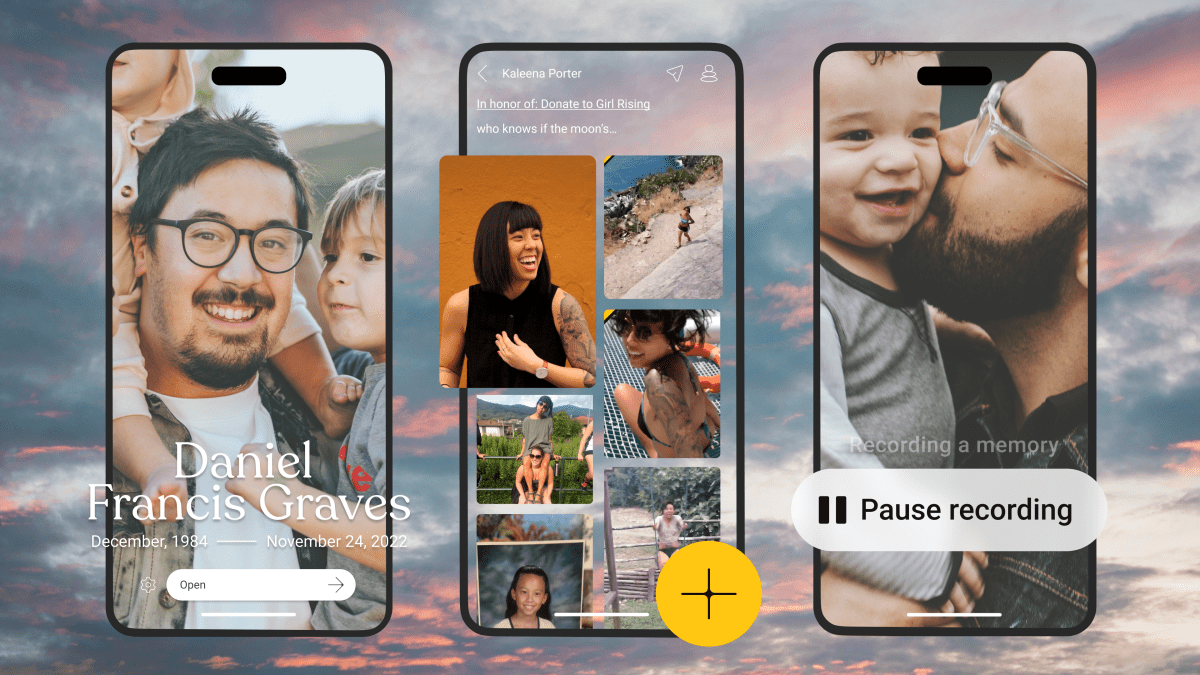 Chptr, an app for sharing and holding onto memories of lost loved ones, has raised $1.5 million in seed funding. The app is designed to give people a way to encapsulate the life of their loved ones by inviting others to share and store stories, images, audio messages, videos and more all in one place.
The startup was founded in 2020 by Rehan Choudhry, who came up with the idea for the app when he was helping his wife, a news anchor at CBS New York, put together video tributes for the first victims of COVID-19 in New York City. Choudhry told TechCrunch in an interview that the pair was reaching out to the families, friends, neighbors and colleagues of the victims to paint a picture of what their life was like.
"The thing I realized after talking to a lot of families was that these videos served as almost a reunion point for people that they will continue to grieve around," Choudhry said. "We noticed that the grieving process that would normally take 90 days was extended to months because they had something to rally around. So then the question for me was why doesn't everyone on the planet have access to this because we all have smartphones and social media. So I went down the rabbit hole of discovery and it brought me to Chptr."
The app lets you stay connected with the friends and family of your loved one to learn things about their life that you may have not known about otherwise. You can collect and store memories and stories about your loved one, and even record stories on-the-go within the app as you remember things about them. Chptr doesn't want you to just create a memorial and then move on, it wants you to continue to talk about and cherish that person's life with everyone else who loved them.
The app has almost 4,000 users across 900 memorials, and is growing 20% month-over-month. Chptr currently has memorials for people who have passed one week ago to 25 years ago, so it's not just for memorializing people who passed away recently.
With traditional obituaries and funerals, it is mainly the direct family members or best friends who get to share their memories of the deceased. Chptr wants to give anyone who had a nice memory with a person who has passed away the ability to share it with others.
Chptr isn't only building a product that is B2C, as it's also focusing on B2B. The startup wants to support memorialization efforts for news organizations, TV networks, nonprofits and medical centers. Since it can be expensive and time consuming to find and collect stories of people's lives, Chptr could directly offer collections of memories from a person's loved ones. The startup is currently talking to different organizations that will eventually be able to tap into Chptr, with the approval of users, to socialize memorials.
As for the new funding, Chptr plans to put all of it into product development and marketing. The seed round was led by Grit Capital Partners and included participation from Singularity Capital, Lolita Taub's Ganas Ventures, Tubbs Ventures, Gaingels, Lucas Venture Group and Accel Starter. The seed round comes as Chptr closed its $2.4 million pre-seed funding round in summer 2022.
In terms of the future, Chptr wants to build the largest central database and learning resource for life stories while helping people and their stories live on forever.
"We want to build 100 million memorials with over a billion people contributing to it," Choudhry said. "We want to create a Wikipedia of life, but content rich, so that the ripple effect of somebody's existence never stops. They say you die twice. Once when you physically pass, and a second time when your name is spoken for the last time. We want to ensure that the second never happens. And that's possible. We have the technology to do it. We have a social dynamic to do it. People are trained to do it."
Chptr is available on both iOS and Android.