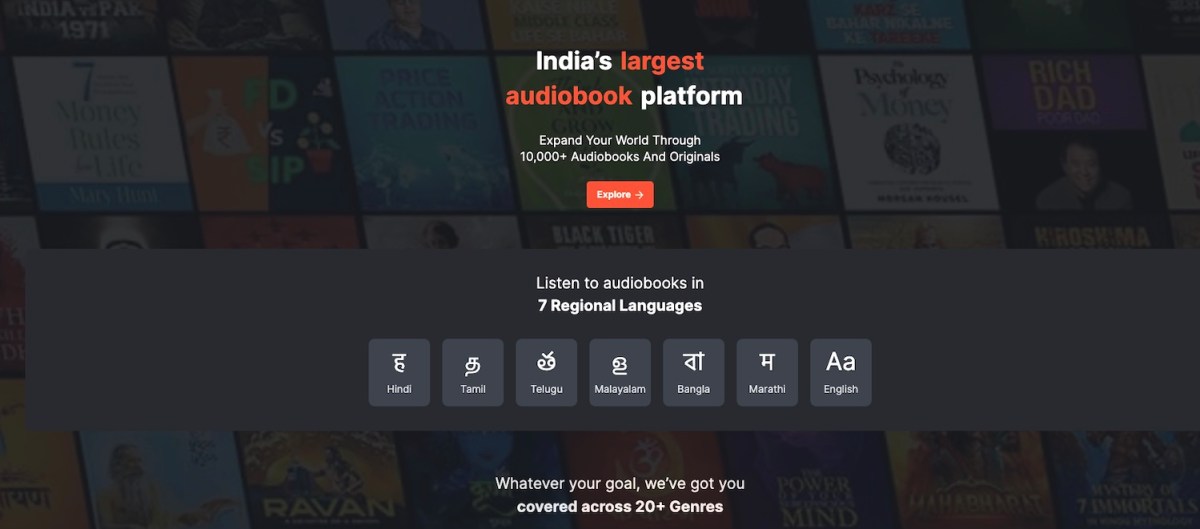 Google-backed audio content platform Kuku FM has raised $25 million in a new funding round as it looks to make deeper inroads with its audiobook offerings in the South Asian market.
Indian billionaire and technologist Nandan Nilekani's Fundamentum Partnership led the Series C funding in Kuku FM with International Finance Corporation, part of the World Bank. Temasek-backed Vertex Ventures also participated in the new financing round, said the five-year-old startup that counts 3one4 Capital and Krafton also among its backers.
Kuku FM, which has raised over $60 million to date, operates an eponymous audio platform that offers over 150,000 hours of content in genres including personal finance, romance, religion, and self-help. The content, available in six Indian languages and English, is pertinent to the local context and has helped Kuku FM make deeper inroads with consumers in smaller Indian cities, towns and villages.
The startup neither displays ads nor provides complimentary content, only permitting users to sample parts of episodes within a series. Instead it charges 99 Indian rupees (equivalent to $1.2) for a monthly subscription and 999 Indian rupees for an annual one, granting users unlimited access to its content.
Lal Chand Bisu, co-founder and chief executive of Kuku FM, told TechCrunch in an interview that the startup has more than doubled its revenue in the last one year and it's currently on track to generate $15 million revenue annually. It's aiming to become profitable by the end of next year, he said.
Consumption of audio content is increasingly rising in popularity in India, thanks to the widespread availability of affordable smartphones and internet access. As vast numbers of Indians join the online community, there's a growing demand for content that resonates with their preferences and is available in their desired language.
Amazon is also amplifying its footprint with Audible in India, partnering with local production entities to enrich the platform's offerings.
Kuku FM has captured a wider market share due to its unlimited consumption model, rather than charging consumers for each piece of content. Bisu said the platform collaborates with more than 30,000 professional content creators who provide their titles to the platform. To ensure quality, the startup employs a rigorous vetting process.
"Kuku FM has created a niche category which caters to the unique and rapidly evolving demands of the new digital natives of India," said Prateek Jain, a Principal at Fundamentum Partnership, in a statement. "Moreover, Bisu and team have demonstrated a great understanding in terms of creating a business model with strong focus on unit economics and robust fundamentals."
Kuku FM plans to use the new funding to expand its catalog, with a particular emphasis on broadening its educational content offerings, said Bisu.