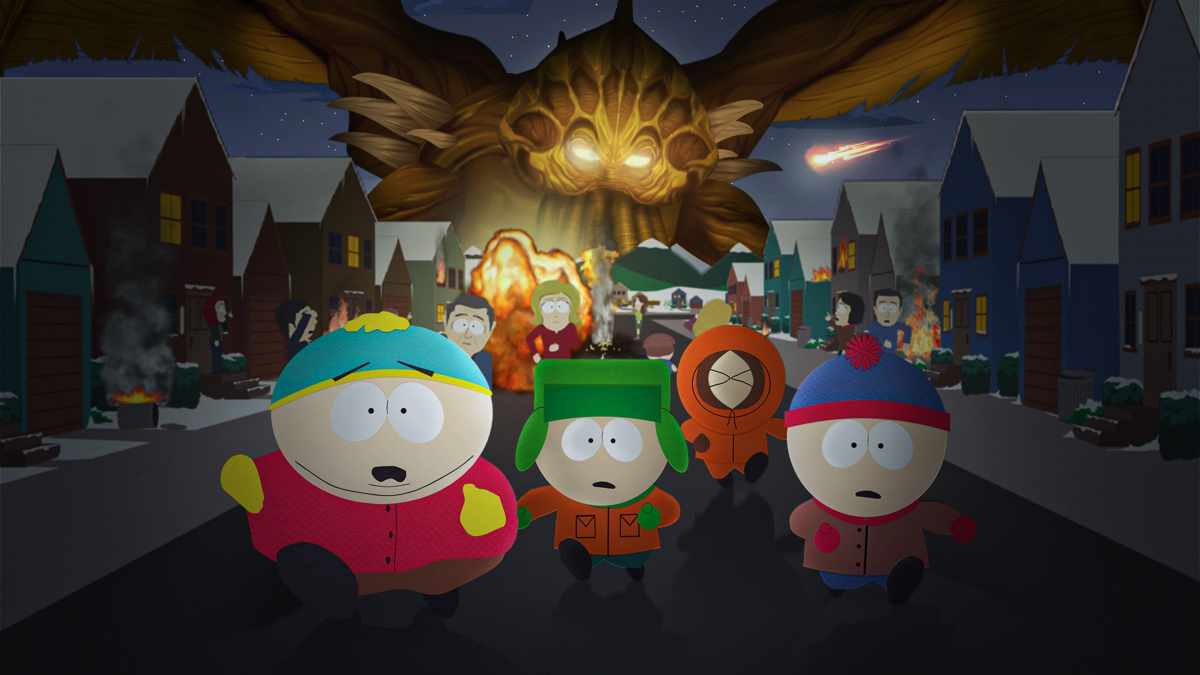 A few months after Warner Bros. Discovery (WBD) sued Paramount over the streaming rights for "South Park," Paramount is now striking back.
On Wednesday, April 19, Paramount counter-sued WBD, alleging that the company is withholding two required payments of $26 million each, bringing the total unpaid fees to $52 million.
"South Park Studios has abided by the terms of the written Term Sheet. WarnerMedia has not," the countersuit writes. "Instead, despite continuously exploiting and profiting from the 300-plus episodes of South Park that is still available for streaming on HBO Max, Warner Media is refusing to pay tens of millions of dollars in license fees owed to South Park Studios for the right to exploit that content."
The counterclaim, filed in New York Supreme Court, argues that the unpaid fees cover the 318 "South Park" episodes streaming on HBO Max.
The more than 300 episodes are from seasons 1 through 26. HBO Max is also streaming the made-for-television documentary "6 Days to Air: The Making of South Park," which Paramount mentioned in the document.
"To purportedly justify its non-payment, WarnerMedia has accused South Park Studios of breaching certain alleged obligations in the Term Sheet," it added.
In 2019, WBD paid $500 million for streaming rights to stream 23 seasons of the animated sitcom, as well as three new seasons (seasons 24, 25 and 26) that had yet to air. The deal was set to last through June 2025.
In February of this year, WBD filed a lawsuit (Deadline acquired the document) that accused Paramount of breaching the deal, alleging that Paramount stole "South Park" content from HBO Max to put on its own streaming service, Paramount+. To be more specific, WBD said Paramount released new "South Park" specials on Paramount+, which WBD believes should've streamed on HBO Max.
In 2021, Paramount's MTV Studios paid a whopping $900 million in a deal with "South Park" creators Trey Parker and Matt Stone. The agreement, which runs through 2027, included six seasons of the show as well as 14 made-for-streaming movies that would stream exclusively on Paramount+.
"We believe that Paramount and South Park Digital Studios embarked on a multi-year scheme of unfair trade practices and deception, flagrantly and repeatedly breaching our contract, which clearly gave HBO Max exclusive streaming rights to the existing library and new content from the popular animated comedy South Park," a WBD spokesperson said in a statement that was shared with TechCrunch.
"Warner Bros. Discovery's argument that Paramount Global was required to deliver additional South Park content is baseless and wholly unsupported by the parties' agreement. Furthermore, it certainly does not justify WBD's refusal to pay for immensely valuable content, all of which it has received and from which it continues to profit," a Paramount spokesperson said in a statement.
In the February 2023 lawsuit, WBD declared that the company bid on the "South Park" streaming rights because it had assurance that the three yet-to-air seasons would consist of 10 episodes each. However, the company claims that Paramount failed to deliver on a number of episodes.
WBD added it continues to take on damages of over $200 million "as a result of Defendants' misconduct," wrote the lawsuit. According to the company, the new episodes hold a higher value than the older ones. Therefore, WBD overpaid for the streaming rights.